The 5 Trend Following Books by Michael Covel
Submitted by Van Beek on December 6, 2011 - 07:38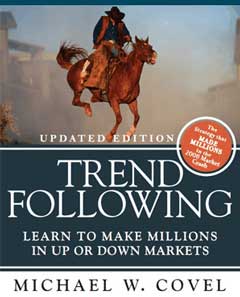 Michael Covel has written many books about trend following. Further below you find a list of his most well known books.

Before buying and reading any of the books written by Covel, be aware of what you can expect. Michael Covel is a firm believer and promoter of the trend following idea. His books will tell you why it works and how it works. Do not expect any arguments in the books against trend following that he cannot handle.
Traders and Investors
Covel's books are very much aimed at traders. The successful people described in the books are traders. These are people who are trading as a profession. If you want to become a professional trader, these books can give you a great step up.
The books are not directly written for the people who are earning their money in a different field than financial trading. If you are a hard-working professional who has a career in a different field than financial trading, the Covel books still offer you a good read. They provide you with insight and ideas. However, they do not provide you with a system to invest and grow your savings in say an hour a month.
My recommendation is to do the following:
Buy one of the Michael Covel books that we have listed below to learn about how trend following is used by traders to make good money.


Sign up for this free newsletter to get more information on how to use trend following to grow your savings in less than an hour per month.


Download here the free Trend Following PDF that explains the different long-term trend signals and how to use them.
5 Trend Following Books by Michael Covel

Here are the main 5 books written by Covel.
Click on the links below to see on Amazon what the contents of each book is. Then you can make a better choice which book to buy and read.
If you think this page about Michael Covel the Trend Following author was of some use to you, please share it with your friends and followers via Facebook and Twitter.
Next & Previous Blog Post