Did you claim your free copy of this new investing eBook already?
Submitted by Van Beek on April 1, 2010 - 13:26
Earlier this week we have published our new Stock Trend Investing eBook. This eBook is at this moment freely available for those who sign up for our newsletter, which is actually free as well.
The title of the eBook is "Superior Stock Investing Results and Peace of Mind in One Hour per Month". It is an extensive introduction to and background for the Stock Trend Investing website.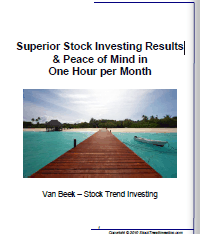 It tells the story how and why I came to Stock Trend Investing system; to explain the journey of a decade that I have taken to get where we are.
Each of the chapters in the book links to a poll on the website. Readers are also encouraged to provide comments and feedback. The links to these pages are provided as well in the book.
See here the table of contents of the eBook to get a feeling for what it is all about.
Table of Contents

Introduction to financial freedom
Stock Investing
My time is my asset
Saving you 10 years
Prologue
Discovering the system
What is wrong with buying individual stocks?
Lowering your risk
What every investor ought to know about Mutual Funds
Difference in performance
Which funds to select
Industry experts
Have you met the two best friends of every successful investor?
The trend is your friend
Time will tell
The secret of buying and selling is timing
Why just being about right is good enough
The secret of timing is aggregating
Initial Trend Expectations
A powerful tool because of the bigger picture
Peace of mind with a proven system that delivers results
The results
Do you prefer $36,700 or $71,900?
Summary
The easy steps
Peace of mind

Make now use of our offer to claim a free copy of this investing eBook by signing up for our newsletter.
This e-newsletter is publishes about twice per month and is free as well. It keeps it subscribers up to date on what happens in the world of trend investing and trading. Subscribers can always unsubscribe whenever they want.
Thus sign up now. It takes a minute and you have your eBook.
Next & Previous Blog Post