Checkout
There are no products in your cart. Please add one or more products before checking out.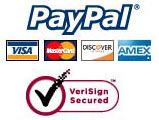 Cancel any time, without any notice. No obligations.

100% Money-back guarantee: when you cancel within 60 days you get your money back.
Payments are done exclusively and securely via PayPal.
No problem if you do not have a PayPal account. Just click "Pay Now" and on the PayPal
page you can indicate that you want to pay with a Credit Card.