Is Now the Right Time To Invest in Bank Stocks?
Submitted by Investing Exper... on April 24, 2012 - 14:31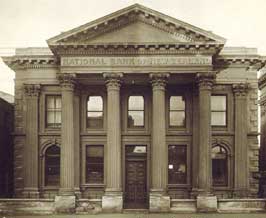 Banks are starting to clear out their toxic debts, and have been stockpiling cash for a while now. Investors could benefit from this action, but not all banks stocks are good buys.
The Federal Reserve gave the nation's major banks another stress test to determine whether they would survive another financial meltdown similar to the one that happened in 2008. Overall, the group tested passed. Out of 19 banks tested, 15 are deemed capable of maintaining the needed capital reserves to weather another financial storm.
Investors weren't impressed with the stress test, however, as much as they were impressed by the promise of increased profits. Since the strongest of these banks can raise dividends, investors are getting excited about the prospect of being able to buy attractive bank stocks once again. Aside from the financial crisis, bank stocks have traditionally been some of the most reliable stocks (not to mention best performing) dividend stocks on the market.
Best Bank Stocks
The best bank stocks will have a strong balance sheet, won't be facing a downgrade from Moody's or S&P, strong profit margins, and strong dividend coverage. One of the best-looking long-term investments seems to be U.S. Bankcorp. Technically it's a regional bank, but it has $60 billion in market capitalization which puts it on par with the big boys in the industry like Wells Fargo and Bank of America, sans the risk inherent in investing in those bigger banks.
U.S. Bankcorp also has an impressive history of raising its dividend as it grows its earnings. Historically, Bankcorp has favored a dividend yield above 3.5 percent. That makes its current payout of 2.5 percent look temporary.
While Bankcorp's balance sheet looks mediocre according the Fed's stress test, with just $84.7 billion in cash and $283 billion in long-term investments and $261 billion in liabilities, it also didn't get itself neck-deep in subprime loans and nasty derivatives. Because of that, it remained profitable in 2009 while other banks were floundering.
Bankcorp also keeps its investors well informed about what it wants to pay out as a dividend. It aims to pay roughly 30 percent of its income as dividend payments. This gives the bank sufficient capital to grow and a healthy profit for investors.
Short-term to intermediate term bank stocks that look good include Bank of America and Citigroup. While Bank of America has had trouble since 2008, its bad days seem to be behind it. At around $8 per share, B of A may be a great short to intermediate-term play as long as the bank continues to stay out of trouble. Since its book value is just over $20, it has a ways to go and can make investors very happy.

Citigroup
Citigroup, like Bank of America, is fighting its 50-day moving average, and the bank has had its share of ups and downs (mostly downs) since 2008. While some investors are still leery of Citi's ability, many hedge funds quietly snapped up shares of the bank last year.
More investors are just now realizing that Citigroup's balance sheet is strong, and its operations are now stable. The bank should work its way back up to $48 per share once the market realizes just how stable it is.
With Citi analysts recently calling for the FTSE100 to double in 10 years, and with the bank shoring up its balance sheet, it seems confident about its ability to perform over the long-term. However, the most attractive position may be a short-term or intermediate-term position. As the bank recovers, short-term investors could realize significant gains, especially if they are buying options contracts on the bank.
Guest post contributed by Elizabeth Goldman, a freelance forex strategy and finance writer, on behalf of Everest Forex the destination to learn forex trading and home to bonus forex points. All views and opinions are those of the writer and do not necessarily represent Everest Forex.

Please share your comments. What do you think? Is it now the right time to invest in bank stocks?